You may be asking yourself, "Why should I join ICCJ?" When you become a member, you will become part of our extended synagogue family. All our members are treated to 2 free High Holiday tickets and a prayer book for the 1st year, one year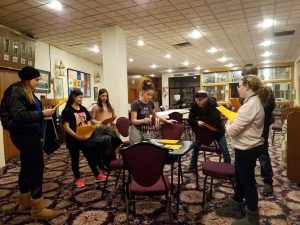 free membership in our Sisterhood, Chaverim and Men's Clubs (as applicable), use of ICCJ's pool and gym facilities, as well as involvement in our events, Lunch and Learn, Knit and Smooze, Book Cafe, as well as numerous clubs and committees. As a member of ICCJ, you will also receive a major discount on your child's Ohr Chadash, our Hebrew school. Additionally, all new members will receive a lovely welcome gift just for joining. You will be joining a warm, welcoming synagogue made up of caring individuals who will make you feel at home. Even our clergy are there for you at any time you may need them.
What do you have to do to become a member of ICCJ?
Membership dues range from $676 for a family to $338 for a single member. Single heads of household families pay $507.
All you have to do to pay for your membership is click on the pay link under the support tab. Or simply call the temple office at (718) 591-5353.
Please join us for a Shabbat Service today and meet our Rabbi and Cantor. Or call the office to schedule a tour. You can also reach me anytime at nhgreebler@yahoo.com with any questions or concerns. I will be glad to assist you. I am sure you will agree, like my family did, that the ICCJ community is the one that you and your family would love to be a part of.
With gratitude and best regards,
Nina Greebler
Membership Chair