USY (United Synagogue Youth)
In partnership with our sister temples, Hillcrest Jewish Center and Hollis Hills Bayside Jewish Center, we participate in USY, the Conservative Jewish youth movement. USY first started as a vehicle for Jewish public school students to meet other Jewish children to enhance our yiddishkeit and learn about culture, religion and values. For more than 60 years, USY has taught young Jews the values and skills they need to become exceptional leaders in their religious and secular communities.
The goal of USY is to empower Jewish youth, nourish friendships, develop leadership skills, and foster a sense of belonging within the Jewish people. They also learn about and gain a deep love for Israel.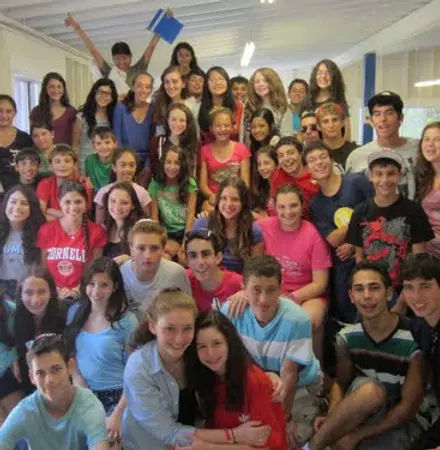 H2I Youth Group offers programs for children and young adults in grades 2 through 12 where Conservative Jewish youth can meet and learn early on about Conservative Judaism. Both USY, grades 9-12, and Kadima, grades 2 – 8, meet throughout the year at one of the three sister shuls, where their activities range from social to educational and athletic to artsy. In addition to our regular Sunday night meetings at one of our three sister shuls, H2I offers various special trips and events throughout the year.
Additionally USY even hosts a one-week encampment event at the end of summer which immerses all the teens in a true kibbutz-like environment and provides them with a way to learn and grow as Jews.
Please contact our temple office to learn more about H2I.
Where Does Your Child Fit In?
Nitzanim: Children in Grades 2 & 3
Sunday Nights, 5:00-6:15 PM
Thursday Recreation Hour, 6:30-7:30 PM
Chalutzim: Children in Grades 4 & 5
Sunday Nights, 5:00-6:15 PM
Thursday Recreation Hour, 6:30-7:30 PM
Kadima: Children in Grades 6-8
Sunday Nights, 6:15-7:30 PM
Thursday Recreation Hour, 6:30-7:30 PM
USY: Children in Grades 9-12
Sunday Nights, 7:30-9:00 PM
Facebook: H2I Youth
Twitter: @H2IYouth
Instagram: @H2IYouth
Email: h2iyouth@gmail.com