Communications
The Communication committee's mission is as simple as that…to communicate with our congregants both past, present and future and inform them of what's happening in ICCJ at any given moment.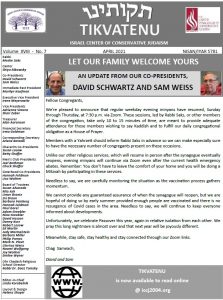 Communication does not just include the website. It also includes our wonderful bulletin Tikvatenu, all our flyers, eblasts, advertising and any and all types of social media (Facebook, Instagram, YouTube, and TikTok, just to name a few.) It's our way of truly bringing ICCJ to you.
We are sure you will agree that this is the one committee that truly brings our family to yours.
Let our family welcome yours.